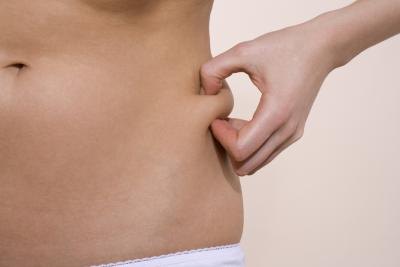 Stretch marks seem to be an unavoidable fact of life, especially for women who have borne children and body builders whose muscles grew too quickly. While stretch marks do not completely go away once they have appeared, they do fade over time. This fading process can be helped along considerably by the use of chemical peels. Instead of spending up to $300 for a spa chemical peel, you can do your own at home.
Alpha Hydroxy Acid
You may have considered purchasing products or going to the spa to gain the benefits of alpha hydroxy acid. These products and treatments can be quite expensive, and the fact is, you can get the same cell acceleration using fruit. Alpha hydroxy acid is a component of such fruits as pineapple, strawberries and papaya. For the price of a cup of one or more of these fruits each week, you can start reducing the appearance of stretch marks on your body.

Pineapple also contains bromelain and papaya has papain, both of which are proteases. These help to break down and remove dead skin cells. Strawberries have lots of vitamin C, which is a major component of many of the newer facial rejuvenators.

Simply puree in a blender or food processor the fruit or fruits of your choice (one-quarter to one cup total, depending on the size of the area you are working on). Spread the mixture on your skin and leave it on for one to two minutes at first, to check for any irritation. If you tolerate this treatment, then the next week you can leave it on longer, but no more than five minutes. Rinse thoroughly with cool water. You should notice an improvement in the look of your skin after three or four treatments.
Lactic Acid and Onion Extract
Look in your refrigerator and pantry for other acids to try. Milk, buttermilk, yogurt and kefir are excellent sources of lactic acid, which is the main ingredient of many effective, and expensive, skin improvement products. You may find yogurt easier to use because of its creamy consistency. To increase the exfoliating and skin renewal action, add a few tablespoons of oats to one-half cup plain yogurt. Massage this mixture into the affected area and leave on for two minutes. Rinse with cool water.

Name-brand scar and stretch mark treatment creams often contain onion extract. The juice of an onion has been used for centuries to minimize scarring. Make it at home by peeling half an onion and running it through the blender or food processor. Strain the juice through cheesecloth and mix it with three tablespoons of aloe vera gel. Rub this remedy into your stretch marks twice a day and leave on.
Considerations
While you may see improvement in the look of your stretch marks within a few treatments, it may take several months of consistent use to get the full effect of the remedy. If you notice any redness, itching or painful burning with any of these remedies, discontinue use.